Biography
performance ︎2014 (2016)
Performance is the result of work on the borders between memory and presence using i.a. Butoh as a form of work with an exploration of the relationship between body and mind. The idea of work focuses on the matters regarding the perception of the present and reality in the context of our existence and identity as the humans. At the same time it refers and explores these issues through awarness of body, mind, memories and memory.
During the process I explore and discover the resonance between the body and matter. I'm looking for traces of existence in the distant memory of the body. I pervade the reality of the here and now, where non-space and non-time form integral element. The infinite and multidimensional transformation becomes the source of motion. The performance process is newer the same.
This performance was originally created as the result of participation in "Quiet House" Subbody Butoh project in Cinema Theater in Michałowice and MiserArt in Wrocław in Poland in 2014; later it was developed during residency in ︎ Šopa Gallery in cooperation with ︎ K.A.I.R. (Košice Artist in Residence) in Košice in Slovakia in 2016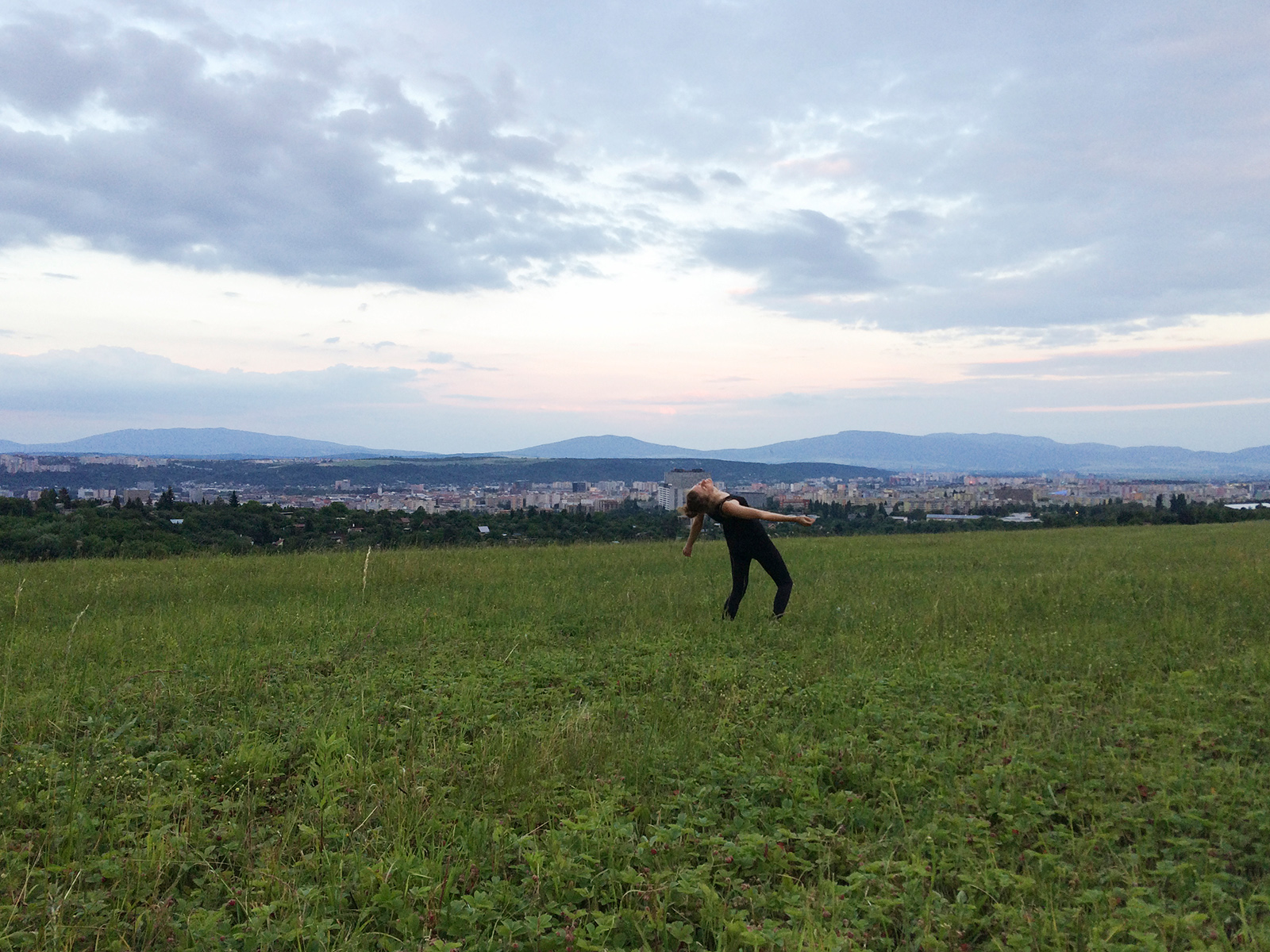 Pictures above and texts fragments below are part of the documentation of practice and preparation combined with the performance


We leave traces and all leaves traces in us.
︎
I was walking, but then I was walking already more and more uncertain. Despite the determination. Uncertainty in the body. First, I walked through the open hill. Then I went into the forest. Even more. A lot of birds, that are not afraid, and I was scared.
︎
I maked a deal, that with myself I will be honest.
︎
In this forest I feel like in a forest, just, nor the stranger, nor tame. I'm associated with it. Each part of its may have something to say.
︎
The forest attracks me. Each of its breath. And I found one to which I want to go back and do not even have to go to the other end. Enough that I enter it. I forget about breathing. Although to get there I need time.
︎
I wake up my darkness, and basically I'm not ready for a meeting.
︎
They do not stop. They enter one after the other. They go though, but remain. They spread through every piece, slowly eating and devouring everything they encounter on their way. They leave riddled spaces, that turn into ashes.
︎
I try to listen and capture tiny seeds to be carried out, to explode in their beautiful voices.
︎
The forest is different every day. Every day I get different values while entering and leaving.
︎
Eyes have not seen, though looked, but it was dark. Eyes, though opened, but not seeing the light.